How Ben Horowitz Overcame 'The Struggle'
Lessons from The Hard Thing About Hard Things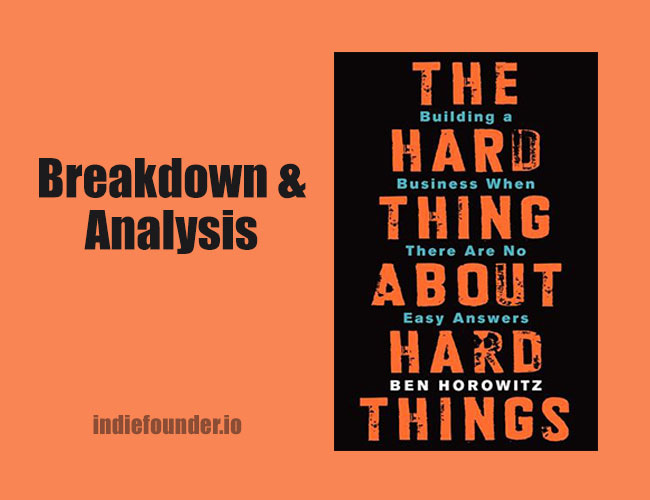 This is not a book review. You can go to Amazon for that. On Indie Founder you will find the best advice and insights from the books I analyze, chapter by chapter. You can find out more about Ben Horowitz here.
You don't have the time to read all of these business and startup books. That's where Indie Founder comes in.
Let's get straight to the point, no fluff. Here's part one of my main takeaways from Ben Horrowtiz's book. I have summarized most of the lessons and have only included direct quotes when absolutely necessary. These are the author's opinions and views.
You can purchase the book here.
---
Chapter 1
Here, Horowitz makes the case that there are no shortcuts to knowledge. In particular, he points that until, "you make the effort to get to know someone or something, you don't know anything."  Personal experience beats conventional wisdom.
-
Chapter 2
When his company Loudcloud was failing, Horowitz asked himself a question that changed everything. That question was "What would I do if we went bankrupt?" The answer was that he would buy the Opsware software which runs in Loudcloud and he would build a software company. So, he tasked his CTO with figuring out a way to get it done before the company went bankrupt. 
He kept most of the staff out of the loop about the new business venture. He was worried that if he told others, they would stop working on Loudcloud and doom the business. So, he assigned a team of 10 engineers to work on a project called Oxide, which of course was really a code name for the real work.
When other employees asked what Oxide was, the line was that it was a different product line. This didn't sit well with some employees, in particular two "Stanford Business School" graduates who scheduled an appointment with Horowitz, that included a 45-slide presentation on why Oxide was a waste of time.
After they were done, Horowitz uttered his first words as a wartime CEO. "Did I ask you for this presentation?" And that was that.
-
Chapter 3
Horowitz needed to move fast and make quick decisions if Loudcloud was going to survive. They had 60 days to make a deal. One of the early lessons he learned was that whenever a large organization tries to do anything, a single person can delay the entire project. Such delay can prove fatal. With that lesson in mind, he made sure to have direct contact with the team members assigned to make the deal to ensure that there was no delay. 
The Vision
Later on in the chapter, he writes about defining the product. His product management team had a hard time deciding what features to include and which to drop. They were too worried about the competition and what the customers would think. Horowitz makes the case that sometimes only the founder has the tenacity and vision to ignore the data and make a decision.
"The customer only knows what she thinks she wants based on her experience with the current product. The innovator can take into account everything that's possible, but often must go against what she knows to be true. As a result, innovation requires a combination of knowledge, skill, and courage."
-
Chapter 4
During another pivotal time in the life of Loudcloud, Horowitz learned another invaluable lesson of being CEO. No matter the odds, you have to find the answer to make it work. In fact, he recommends that you ignore the odds. Just keep fighting. The one skills that makes a successful CEO is the ability to focus "and make the best move when there are no good moves."
The Struggle
Later in the chapter, he moves on to what he called "The Struggle," that is when self-doubt begins to creep in, when things don't go as planned, when everything around you is collapsing. The Struggle itself is not failure, but it can be the cause of failure if you're weak. Despite that, if you can hang on and find a way out, "The Struggle is where greatness comes from."
So, what do you do during this time?
-Don't put it all on your shoulders. Find other people to share part of the burden with. Get them working with you on how to fix the problems you're facing. 
-This is not checkers; this is motherfuckin' chess. There is always a move to make. Get creative. Find a way out.
-Play long enough and you might get lucky. Technology is an ever changing field. If you stick it out long enough, things may change in your favor in the future.
Don't take it personally. Even though you probably made the hiring calls and the decisions that may have put you in a precarious position, feeling sorry and blaming yourself won't help. Every CEO goes through that.
Remember that this is what separates the women from the girls. You knew that starting a company would be risky, but you did it because you want to be great. If not, why did you even start?
Stay the course, get help and get lucky.
-
Thanks for reading. Part two will be released on 5/31 to paid subscribers only. The free tier receives one free monthly breakdown only. $5 a month for this newsletter is a small investment in your company/idea. Learn from the best in less time.
You'll have access to my breakdown of the rest of the book, including; The Positivity Delusion, Why It's Imperative to Tell It Like It Is, The Right Way to Lay People Off, Preparing to Fire An Executive, Demoting A Loyal Friend, Lies that Losers Tell and that's just Chapter 4. There's still 5 more chapters left after that.